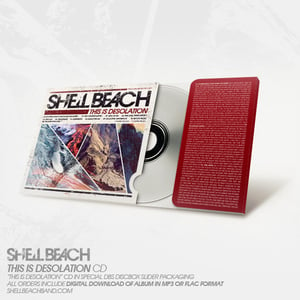 €

6.00 - On Sale
[6 EUR / 1800 HUF]
This is a regular order item for the new SHELL BEACH record "THIS IS DESOLATION" and includes the CD in a special DBS Discbox Slider packaging.
The record is the work of two years, includes 11 tracks and features Matt Geise of Lower Definition, and ZEEK as guest vocalists.
All orders also include a digital download of the complete album. All download links will be sent via e-mail.
THANK YOU!
Shell Beach
* For personal pickup, choose "Antarctica" as shipping destination!
* Személyes átvétel esetén "Antarctica"-t válaszd szállítási országként!